The cottage is located just off Atlantic Drive, on Achill Island (Irelands largest Island just off the West Coast), accessed via a bridge from the mainland. It overlooks the sound (stretch of water separating the mainland) and the Currane.
The nearest Airport is Knock approximately an hour and a half's drive away.
The new Michael Davitt (Whale-bone) bridge onto Achill Island from the mainland: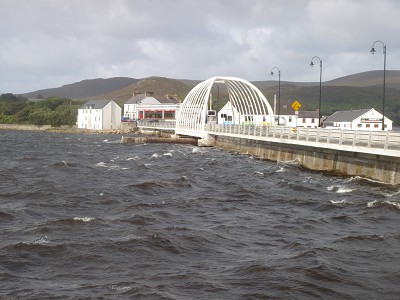 The cottage is remote but not isolated and has some of the finest scenery Ireland has to offer with many activities close by. It is an ideal place for relaxation, unwinding and outdoor activities. The island also boasts some blue flag beaches, nice traditional pubs and great walks and has all amenities to close by.
Directions to Achill Island: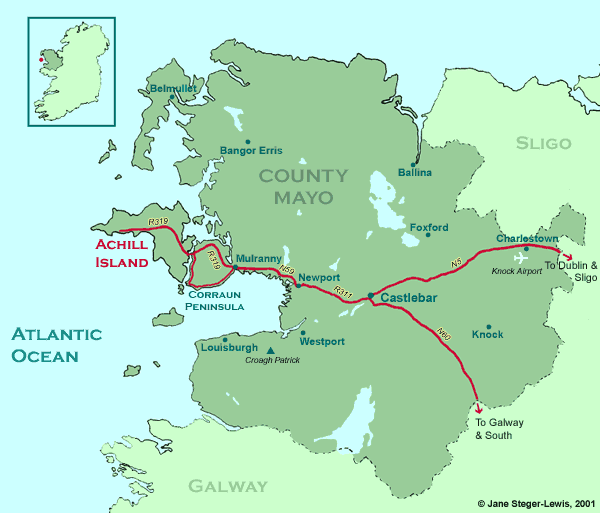 Road
Achill Island is located on the west coast of County Mayo, Ireland. Achill Island is four hours drive from Dublin and  Shannon Airports. It is 5/6 hours from Belfast Airport.
Air
For international visitors, Ireland West Airport Knock provides excellent access and is only just over an hours drive from Achill.
Knock Airport has direct flights to Birmingham, Dublin, London Stansted/Luton/Gatwick, Manchester, and Nottingham East Midlands airports.
Cottage Location
Map below shows the location of Shraheens where the cottage is located, just outside Achill Sound (1.5 miles outside) along the Atlantic Drive. Everything on the Island is easily accessible from this location with the town of Achill Sound close by for all your requirements. The drive itself around the Island from here along the Atlantic Drive is also one of the main tourist attractions